DO YOU LUNGS A FAVOR, KEEP YOUR NOSE CLEAN®
For Relief From Symptoms Of Sinusitis, Colds, Flu
AND Seasonal Allergies
Four Formulas Thoughtfully Created To Cover All Your Bases.
Buy Any Three And Get The Fourth One Free!
The ONLY Patented, Drug Free, All Natural DAILY Nasal Wash, PERIOD!
Proudly Made In The U.S.A.
Always Free Shipping!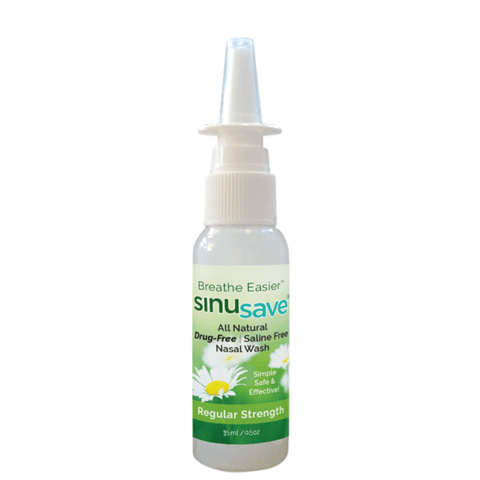 SinuSave Per Oz. Is Less Expensive Than All The Leading Competitors
When you try SinuSave® the first thing you'll notice is the size of the bottle. We provide 70% MORE formula than our competitors. This is due to it's recommended daily use. As mentioned previously, SinuSave® is 100% drug and saline-free. It is an all-natural formula that should be used daily as part of your morning and evening hygiene routine to help keep you healthy and feeling your best. 
Not convinced yet?
Compare our all-natural/drug-free nasal spray alternative to the leading competitors:
Neo-Synephrine®                                     
Mucinex®
Dristan®
Afrin®                            
Sinex®
Zicam®                            
Flonase®
Many over-the-counter (OTC) nasal sprays contain Oxymetazoline HCL (AFRIN®), Phenylephrine HCl (NEO-SYNEPHRINE®), Zinc.gluconate(Zicam®), all of which cause a "rebound effect". This means that your body can become dependent on these drugs if you use them for too long.  If you become used to it, your nose may feel even more congested when you stop using them. Fluticasone propionate (Glucocorticoid – FLONASE®) can be used long term, does not cause rebound effect, however it can cause nose bleeds and other side effects. 
Choose SinuSave®: The All-Natural Daily Nasal Hygiene Wash 
SinuSave® is the only patented, all-natural, drug-free, saline-free, daily nasal wash. It's safe for everyone in the family to use as part of their personal hygiene routine. So, brush your teeth, floss your teeth, and; Do your lungs a favor, keep your nose clean™

SinuSave® was invented and patented by an Oral & Maxillofacial surgeon whose patients dealt with severe nasal congestion after facial reconstruction, nasal passage and sinus surgery. They all loved the way this unique formula broke up blockage and helped them to Breathe Easier™ with an all-around soothing effect and pleasant aroma with NO BURNING SENSATION as can be caused by many other nasal sprays and irrigation systems.
SinuSave® daily nasal wash formulations were inspired by ancient herbal remedies. Herbal essential oils contain natural enzymes & antioxidants. It is easy to administer and assimilates quickly. We only use the finest extraction of essential oils, chosen and carefully blended to create stronger and more beneficial effects on the body. When used in conjunction with a healthy diet and lifestyle, SinuSave® can help maintain your body's health and wellness.
The regimen of daily nasal washing can help clear infections and can help prevent them from developing. This site showcases the benefits of using SinuSave® Daily Nasal Hygiene Wash to aid your general health & well-being. It contains a wealth of information for anyone suffering from nasal congestion, whether due to cold, flu, sinusitis, or allergy symptoms. When added to your daily personal hygiene routine SinuSave® can be the first line of defense and prevention.

Available in four different formulas, with separate strength profiles, SinuSave® truly is for just about anyone!

Our patent is the bedrock for all SinuSave® formulations. Regular Strength is our base line, like all our formulations it's all-natural, 100% drug free and saline free. 

Though 50% stronger than the Regular, our Extra Strength formula is as gentle as it is mighty. Perfect for those who are frequently exposed to smoke & excessive air pollution; and who suffer from seasonal or chronic pollen and mold allergies.

Frequent traveler? Whether for business or pleasure, Air Traveler® will be your new favorite TSA Compliant carry on. 25% stronger than Regular Strength, Air Traveler® has added moisturizers to help combat the notoriously dry air conditions encountered on virtually all classes of high altitude aircraft.

With all the nasal decongestants on the market, we know it's hard to find the best choice for you and yours. So, give us a try and let our patented formula do the talking for us. Your sinuses will thank you!

Choose SinuSave® to help you Breathe Easier™
______________________________________________
Sinusave All Natural / Drug Free
The Need
For SinuSave® customer, Tiffany W., working as a nurse practitioner in an emergency room exposes her to a lot of allergens and germs. "I am also a chronic sinusitis sufferer and allergic to just about everything" she said.

Tiffany's ordeal is not an isolated case. The U.S. Centers for Disease Control and Prevention estimates 30-35 million American adults suffer from sinusitis annually. The number of infections is estimated to be 70-80 million due to multiple incidents per patient per year.
Chronic sinusitis is debilitating. The congestion brought about by inflammation of nasal passages is merely a prelude to a host of other symptoms like headaches, pain and swelling around the eyes, cheeks, and nose and interrupted sleep cycles. Sufferers often move about in a haze of pain, nausea, and fatigue.
To alleviate symptoms, patients turn to nasal sprays to find relief. Studies show that nasal washing can help reduce the suffering so that people do not necessarily have to resort to surgical options to resolve their problem.
However, medicated nasal sprays can also be a problem. Not everyone responds positively to the chemical substances used in decongestant drug sprays.
Airline steward Julio A. used nasal sprays to help treat his sinusitis, but it had an adverse effect. "I was 'hooked' on Afrin for years." he said.
"I had to use more to get the same level of relief. The more I used it, the less good it did until it was all but useless, giving me relief for an hour at best and my morning sinus headache was back in a couple of days and never left after that", he recalled.
Similarly, Tiffany's condition did not improve with the use of nasal sprays. "For most of my life, I woke up at night coughing from post nasal drip. I always had a sinus headache in the morning." she said.
Saline nasal sprays were an option. But some studies have shown that nasal irrigation result in minor or no benefit at all. These can leave a salty aftertaste and be irritating to dry sensitive or sore nasal passages.
Natural alternatives like SinuSave® are more effective. When Tiffany began using SinuSave®, she was amazed at the positive effect.
"I've used SinuSave® daily since August 2017. I no longer wake at night from post-nasal drip. I sleep well and wake rested." she said.
Julio also experienced a similar improvement in his condition. "Within three days after I started to use SinuSave®, I no longer had to use Afrin. I sleep through the night now; no morning sinus headaches," he said.  He has taken to using SinuSave® before, during and after his flights, helping to prevent discomfort from dry air in the aircraft cabin and relieved that he is back to functioning normally.
Recommended by Health Care Professionals to Relieve Nasal Passage Dryness and Irritation Caused by:
Sinusitis

Sinus Infection

Allergies

Cold & Flu

And if you are one of the 25 million Americans allergic to pollen from trees, grass, or weeds
_______________________________________
Try Us Out & Experience the SinuSave® Difference Today!
 Helping People One Nose At A Time!
{{ product.metafields.spr.reviews }}